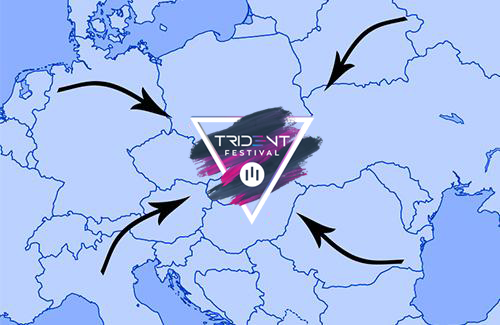 Travelling to Trident Festival from abroad?
We got you covered!
But first, let us thank you for taking the journey, we'll make sure you won't regret it :) Let's dive into the process now.
As most of you will travel from West European countries, let's assume you are able to make your own way to the capital, Bratislava, without our help.
ALSO PLEASE CHECK OUT USEFUL INFORMATION FOR VISITORS (English version bellow)
If you can't make your way to Bratislava or if you are from a East European country where it wouldn't be so convenient to travel to the capital, please email: andrej@trident.sk for further info.
STEP 1:
When in Bratislava, you'll need to get to the main train station – ''Hlavná Stanica'' – in order to board a train going to Topoľčany, the city closest to the festival area. Alternatively, you can go to Topoľčany from the main bus station ''Autobusová Stanica Nivy''. There will be party shuttle buses waiting for you (more info soon).
Option 1: You took a plane to Bratislava
Going to to the main train station – ''Hlavná Stanica''
After landing, please take the bus No. 61 that departs right from the main gate, it will take you to your destination. Don't forget to buy a ticket from a machine at the bus stop, you cannot pay with the driver.
Here's a planned journey, just so you get the point: https://bit.ly/2sAb1MQ
Check times between Bratislava - Topoľčny: HERE
Going to the main bus station "Autobusová Stanica Nivy"
We do not advise to do this. You are already at the main train station so why to make it harder for yourself, right?
If you really want to do this, just reverse the steps above described in Option 2 / 'Going to the main train station – ''Hlavná Stanica''
OR check time between Bratislava - Topoľčany: HERE
STEP 2:
You are in Topoľčany. BIGUP! There will be shuttle busess waiting for you to get you on ride of your life :) (more info soon)
Honestly, this is a small city and taxis are so cheap and convenient, it'd be your best bet to get one, no matter if you arrive at the bus or train station.
Just tell the driver that you are one of the most legendary ravers going to Trident Festival in ''Duchonka, Prašice'' and he/she will be more then willing to take you there (whilst you share your rave stories with him/her) :-)
STEP 3:
Have the best time of you life at the festival. The girls are beautiful (or boys?), sun is shining and the lake is stone's throw away. Just be safe please!!! :)
STEP 4:
All the good things come to an end :( Reverse the steps above in order to get home and see you next year!
Useful Info:
Taxi in Topoľčany: we are working on it to get better prices for you guys (more info soon)
Taxi in Bratislava;
(no Uber sorry)
Taxi Bratislava: +421 2 16 300
Fun Taxi: +421 2 16 777
Easy Taxi: +421 907 440 440
Green Taxi: +421 2 16 660
MORE INFO ABOUT SHUTTLE BUSES AND FRIENDY TAXIES SOON
SEE YOU ON THE DANCEFLOOR :